Net Zero Quick Possession Home in Rockland Park
6 Rowley Gardens NW - Clairmont SSY 24
This home is a Certified Net Zero home in the master-planned community of Rockland Park. Cedarglen Homes built this house to be a fully certified Net Zero home. From the mechanical systems and added insulation down to the interior selections that were chosen, our team set out to create a home that was as energy efficient as possible.
Technical Specifications:
2" rigid insulation under basement slab
EPS insulation around the foundation
R24 Batt insulation to exterior walls on main & upper floor
2" exterior insulation on exterior walls
R60 insulation to attic
Mitsubishi heat pump
Rheem hybrid electric water heater
Triple pane casement windows
14.985 KW solar system
Net Zero homes are built to be as air-tight as possible to keep outdoor pollutants out of the home and reduce air leakage. This results in better indoor air quality, better noise insulation, and reduced energy & heating costs for homeowners. For a home to be classified as 'net zero certified', it must achieve an airtightness of 1.5 air changes per hour or better. This home far exceeded this standard by achieving 0.71 air changes per hour (confirmed by a 3rd party energy advisor). To learn more about what is included in the Net Zero Certified package, explore our video series HERE.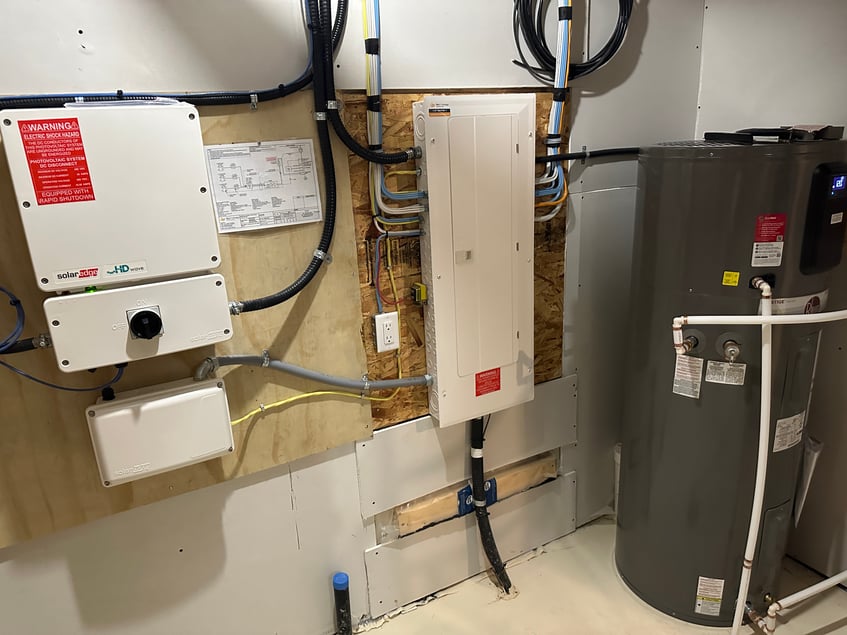 Sustainable Interior Selections
The countertops used throughout the home are Caesarstone – a material that is GreenGuard certified which means it meets the most stringent indoor air emission standards. In addition, Caesarstone products are NSF approved to be compliant with the International Health and Safety Foundation sanitary standard, resulting in all non-porous surfaces inhibiting the growth of mildew and bacteria.
Haro laminate flooring was selected to be used throughout the main floor, and this specific product is manufactured in Germany. Haro flooring has received the 'Blue Angel' seal of quality, which is an ecolabel of the German Federal Government that sets stringent standards for environmentally friendly products and services. In addition, this brand of laminate flooring is still highly rated for 'wet' rooms such as bathrooms due to its low swelling values making it an incredibly versatile product.
The carpets found throughout this home are sourced from Dwellings and fall under the 'Engineered Floors' umbrella of products. Within the Dwellings model, they have consolidated the entire production process to take place under one roof thus eliminating the need for additional transportation of raw materials. They have refined their process to allow for an 87% reduction in water usage, a 30% savings in energy, and 42% less greenhouse gas emissions. Dwellings also uses a technique known as 'solution dyeing' which eliminates the addition step of needing to dye yard or tufted carpet and thus using 50% less oil than piece-dyed nylon carpets. This process provides dramatic reductions in energy and water usage and results in a superior product that is fade, stain and bleach resistant.
All the tile found selected in this home (both floor and wall tile) is part of Ames' Ecotile series which means there is no off-gassing, no VOC's and the tile is an inert material with a composition that prevents the release of harmful substances prior to installation. The kitchen backsplash that was selected specifically contains 40% recycled content.
The cabinets used throughout this home are comprised of a prefinished cabinet material and a mix of two brands. The kitchen perimeter cabinets are from Onbord and 88% of all materials used to manufacture this product are made of renewable raw materials. The kitchen island and bathroom cabinets are from the brand Tafisa which is part of the Eco-Certified Composite grademark program (ECC) which maintains a commitment to the sustainable use of wood fibre and environmental stewardship. 85% of the total annual wood fiber used in these products are sourced within a 402km radius, and they comply with the use of ultra-low formaldehyde (EPA TSCA Title VI / CARB ULEF).
From start to finish, every detail of this impressive home has been carefully selected to offer a truly sustainable home. This home can be found at 6 Rowley Gardens NW. If you are interested in calling this Net Zero home yours, please contact our Sales Team directly.
Sales Contact and Visitor Information
Mike Dwyer
Area Sales Manager
403-212-4351
Mike.Dwyer@cedarglenhomes.com
Book a Meeting
Paige Robak
Sales Associate
403-212-4351
Paige.Robak@cedarglenhomes.com
Book a Meeting
Monday-Thursday: 2:00pm – 8:00pm
Saturday, Sunday & Holidays: 12:00pm – 5:00pm
Related Articles